Monitoring Dashboard
Data Refresh
Shoreline periodically ingests all of the Resource data collected by Agents. The Monitoring UI displays the aggregated Resource data.
Real time: Data is actively pulled from active Agents.
Recent: Recently gathered data. This mode is less resource-intensive as aggregated data is only pushed from Agents every few minutes, rather than in real-time.
Dimensions
Use Dimensions to adjust the resource specificity within the view. Click a Dimension to drill up or down with options such as Region, AZ, Host Name, App, and Name Space.

Click on a Dimension + sign to enable it.
Alternatively, click a Dimension - sign to disable it.
Enabling Dimensions loads charts automatically for all filtered resources.
Aggregation
Anytime you are viewing combined Dimensions the displayed resource charts are automatically aggregated. Averaging is the default operation used by data aggregation.
For example, here we're viewing both the Region and AZ Dimensions, but not the Host Name. We have (2) hosts within the us-east-1b AZ, so the us-east-1b chart shows the number of hosts and automatically aggregates data within that AZ: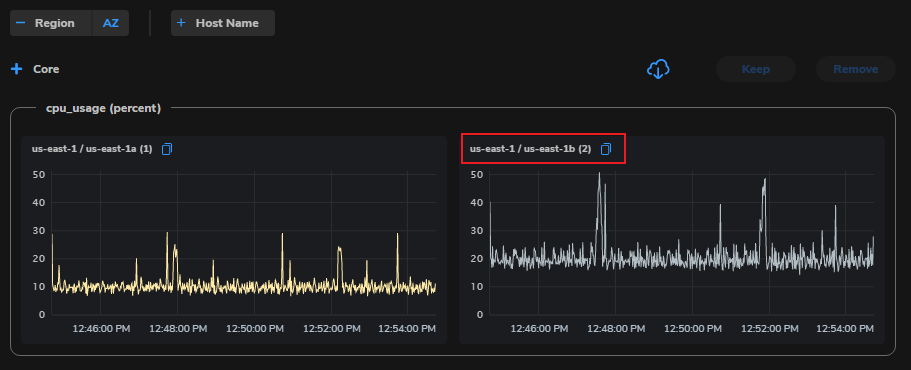 Filters
Filter dropdowns allow you to adjust multiple facets of the displayed data.

Resources
The Resources filter displays all resource types within the environment. Select the Resource type to view related data.
Host: Displays all hosts within the environment.
Pod: Displays all pods.
Container: Displays all containers.

Metrics
The Metrics dropdown lists all Metric Sets, which are based on the currently selected Resource.

Metric Explorer includes many default Metric Sets.
TIP: Custom Metric Sets can be created on the Configuration > Metric sets page.
Host Metric Sets
The default Metric Sets for host Resources are:
Core
CPU
Disk
Filesystem
Memory
Network
Vmstat
Pod Metric Sets
The default Metric Sets for pod Resources are:
Core
Filesystem
Memory
Network
Container Metric Sets
The default Metric Sets for container Resources are:
Period
You can adjust the time period you're viewing by altering the Period dropdown.
For example, selecting last 24 hours will display all monitoring data from the last day.

Overlays

Columns

Chart Type

---
Step-by-Step Instructions
Monitor by Dimensions
Dimensions are how you drill up or drill down
Monitor by Time Period
You can view alarms for a specific time period
Click on the drop-down arrow next to Period
Select Last 7 days, Last 24 hours, Last 60 minutes, or Last 10 minutes
To define your own time period, click on Custom
Select the Start and End dates and times and click Apply
Shoreline supports per second metrics and, depending on the selected period, there is an automatic rollup performed to provide you the correct data points. For example:
10 minutes gives you 600 data points
For Last 60 minutes, you get what is called a 10-second resolution. That means that (10) 1-second metrics are aggregated to create a single data point for a 10-second window. That calculates to 6 data points per minute and 360 data points for the hour.
For Last 24 hours, the resolution is 1 minute
For Last 7 days, the resolution is 1 hour
Refreshing Data
You can refresh data automatically or manually
Click on the drop down arrow next to Refresh
To refresh automatically, select Recent or Real time (which is the most up to date)
Select the refresh Frequency - every 1, 5, 10, 30 seconds, or 1 minute
To refresh manually, select Manual under Refresh every
Click on the Refresh button
A timestamp of the last refresh is displayed next to the Refresh button

Aggregate Data
You can choose how you want to aggregate a rollup of data
The options are percentiles, minimum, average, or maximum.

Graph Overlays
On top of the default metric graphic, you can draw additional overlay lines
The options are Annotations, Statistics, and Bands
Click on the Alarm overlay to see when Alarms were raised and resolved
Alarm details are listed in the Annotations window
Click on Clear All to remove an overlay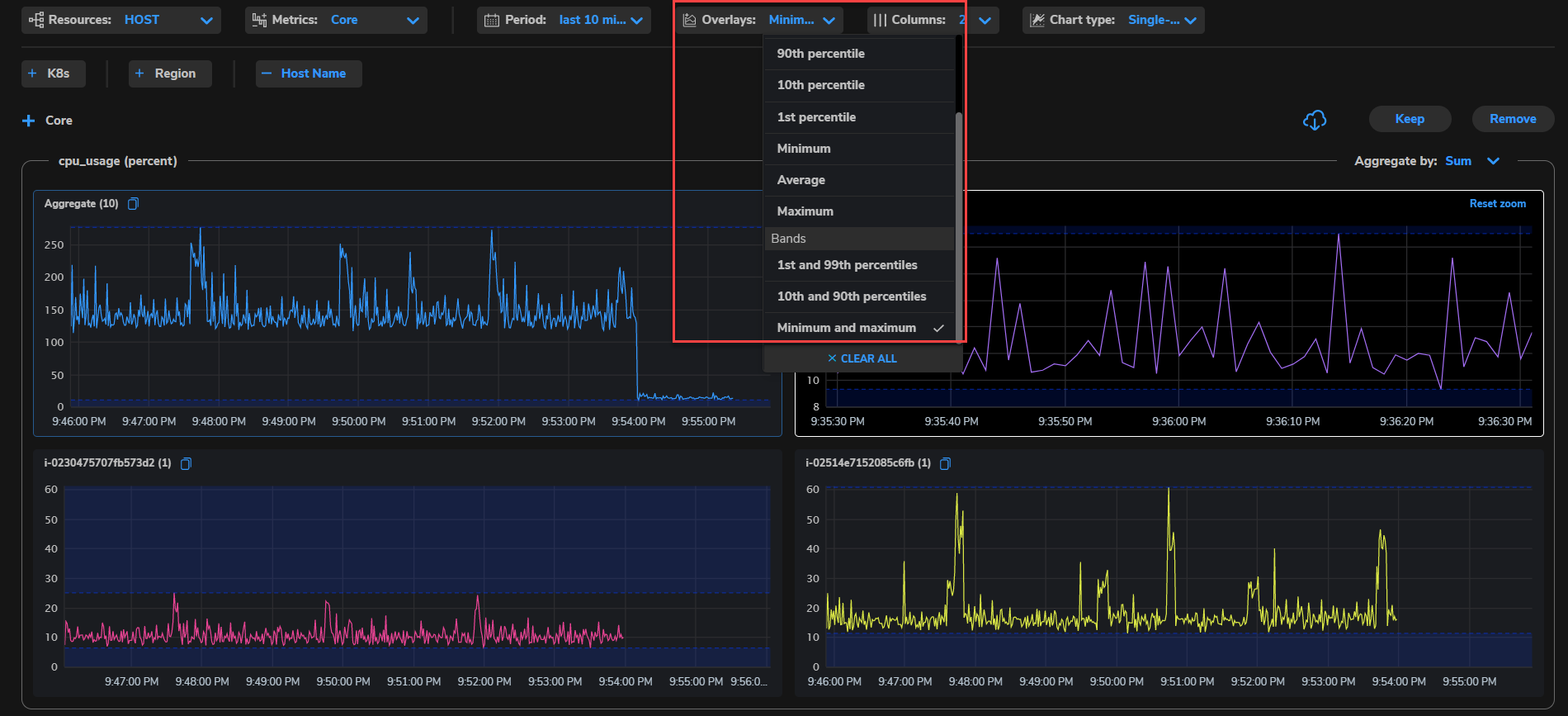 Columns
Charts can be displayed in 3, 2, or 1 columns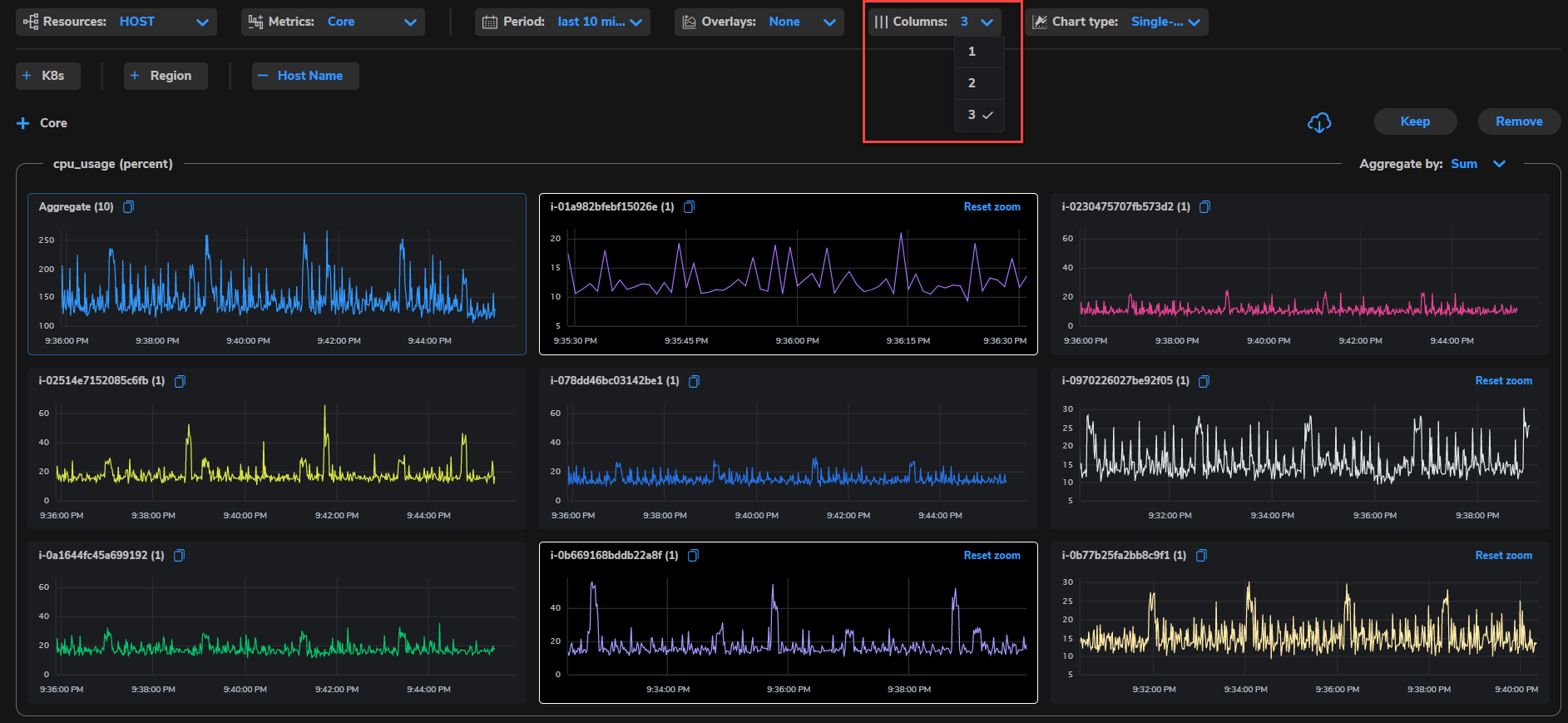 Ad Hoc Metrics
Click on the magnifying glass in the upper right hand corner
Enter the metric name or partial name
Click on the metric and it will be added with an X next to the name
Click on the X to delete the metric

Zoom In
Highlight the area you want to zoom in on by selecting an interval on the graph
Further highlighting increases the zoomed perspective
Click Reset zoom to go back to the original display